In May 2022, all states in Malaysia have agreed to a minimum 20 sen plastic bag charge in an effort to fight pollution through the "No Plastic Bag Campaign".
20 sen might not seem like a lot, but it adds up over time. This means that everyone is scrambling to look for plastic bag alternatives, and Excard understands what's needed to fill that need. Introducing the latest addition to our range: Canvas Tote Bags.
Now, you may ask why you should be interested in getting custom tote bags of your own. It's no secret that tote bags are on the rise in terms of popularity as the eco-friendly alternative to single-use plastic bags, especially amongst the younger demographic who are more eco-conscious than anyone before.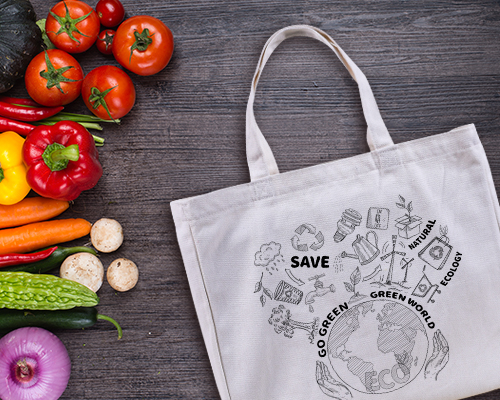 Versatile and extremely useful, tote bags are the cutest way to carry just about anything!
Versatility
Tote bags can be utilised in a variety of ways, be it for shopping, storage, or gifting, the possibilities are plenty. They're also the perfect size to carry anything you might need in your day-to-day!
Due to this incredible versatility and reusability, custom, eco-friendly tote bags provide a fantastic branding opportunity unlike any other product.
A truly outstanding tote bag design provides an incentive for customers to reuse them over and over and over again, often as a fashion accessory where excess is a faux pas. While luxury bags are still popular, some might argue that totes are the true 'it bags' of the average youth of today. This means your brand presence is broadcast to a much wider audience than simply your individual customers.
And it's not just businesses that can benefit, tote bags are a wonderful thing to include as a little gift in personal lives as well. Baby showers, weddings, or birthday parties would be remembered for years to come with a cute little canvas tote commemorating the event.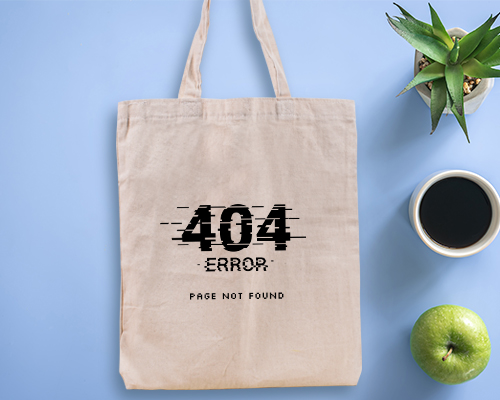 Customize your tote bags in fun, creative ways to show off your personality while carrying your everyday essentials!
Creativity
A blank, cotton tote is the perfect canvas (get it?) for bringing your art and brand out into the world. This is your chance to let your imagination run absolutely wild and come up with a design that reflects your brand's voice and personality.
Some might opt for a simple, clean logo, or maybe patterns to invoke a sense of sophistication and elegance. Others could go for something more provocative and fun, choosing a maximalist approach to spark conversations with clever use of bring colours or quirky illustrations. Even the right quote could turn your tote bag into something special. Sometimes, raising eyebrows is the right way to go.
Here at Excard, you can have unique designs printed on each side, with plenty of room to include logos, typography, illustrations, or whatever you want. Whatever your brand identifies as, you have the opportunity to truly capture the essence of what you're about in your design.
But if you're stuck on ideas, our
have a tonne of designs to kickstart your imagination
Mix-and-Match
And here's an insider tip you might not know! You can have your tote bags match any number of our other products, allowing you to build a cohesive look for your brand.
From
that provides a layer of protection, to that are perfect as that finishing touch, we have all the tools you need to create an unboxing experience that is sure to wow any customer.
But now you may be thinking to yourself, "Oh, wow That sounds great! But compared to
They're all great in their own right, but they each have their own lane. Depending on your needs and your budget, some may prove to be more suitable than others. Right below, you can see how we've detailed the characteristics and specifications of each bag, so you can decide for yourself which fits into your plans the best. and , which is the better option for me?"
Canvas Tote Bag
Non-Woven Bag
Paper Bag
Print Colour
1 Colour
1 Colour
4 Colours
4 Colours
Printable Area
Limited
Limited
All
Material
Cotton Canvas (8oz / 12oz)
Non-Woven (90gsm)
Brown Craft Paper (180gsm)
Gloss Art Paper (157gsm)
Gloss Art Card (200gsm - 1 side coated)
Colour
Natural White
Up to 20 colours
Light Brown / White
*final product appearance depends on artwork.
Finishing
-
-
Gloss Lamination
Matte Lamination
Spot UV
Capacity
Up to 10KG
Up to 10KG
1 - 2KG
Price
💲💲💲
💲💲
💲💲💲💲
Lead Time
⏳⏳⏳
⏳⏳
⏳⏳⏳⏳
Benefits
Durable
Washable
Eco-friendly
Easy to fold/store
Lightweight
Reusable
Affordable

Recyclable
Eco-friendly
Suitable for
Reselling
Gift distribution
Advertising
Daily use
Advertising
Shopping bag
Event use
Reselling
Company events
Gift distribution
Now that you have a basic idea of how tote bags can help your brand, take a quick look at the models we have on offer to see which is the right one for you.