When a shopper passes a shelf in any store, a product exists in their field of view for only 0.2 seconds. That is the miniscule window you have to make sure they're surprised, enough to stop. And that, good reader, relies on packaging.
Designers often encounter unpleasant problems in the process of packaging design and ordering. When communicating the design plan with our customers, the plan itself is often presented because the box tangent template is different from actual requirements. The flat version doesn't provide a good enough visual experience, and we all know designers are visual creatures. This can lead to various modifications of the design draft, wasting ridiculous amounts of time and effort, to come up with a final product that they might still not be 100% satisfied with.
Knowing this, we get that packaging needs a good visual representation to allow designers a better understanding of what they're working with. However, it can be tedious and time-consuming.
From graphic design all the way to the presentation of a final product, one might encounter a myriad of problems:
No suitable box type
Incompatible sizes
Box tangent templates don't match the print
Graphic design doesn't work with the packaging
Difficulties in 3D-imaging
We believe that if you've read this far, you might have had a similar experience. Maybe you've wanted to collapse in a defeated heap. Maybe you want to vomit up blood. But no! We say those days are no more! Whether you're a newbie designer flexing your wings, or a long-time professional looking to improve efficiency, or the marketeer looking over your designer's should reading this, we have the answer.
The all the way to the delivery of the final batch of products. Every single detail has been streamlined for you, so you have nothing to worry about.
ordering process simplifies things like never before. From selecting the box type to editing the template, from exporting high-definition 3D imaging to getting a first physical template for your own customers to confirm that 'yes, this is what they want',
Box Type / Model Library
Everyone who has experience with drawing tangent lines on a box template step-by-step knows just how difficult it can be. Any slight errors can lead to the risk that the product cannot be put down and the box cannot be closed.
The Excard packaging online ordering tool allows you to freely choose the box type that best fits your needs. 'As of now, there are
for you to choose from. Depending on the box type you choose and the measurements you've put in, our system automatically produces a tangent line template that allows you to unfold the design composition without any worries of it not working.
But how does a static cling window sticker help with creating this word association brand awareness?
You start by making sure you have their attention. Eyes can easily glide past plain glass windows. But incorporate your brand into the window itself? Be it by logo, colours, or other elements of your brand identity, you put your brand out there. Anyone walking or driving past your window gets treated to a visual buffet of what your brand is, and what it stands for.
And because these stickers work with static cling, they're easily-removable and these displays can be replaced on a seasonal basis! This helps keep things fresh for your audience, allowing them to look forward to what you have in store next.
Instant price system
This same tool also automatically calculates the price of your order. As long as the box you need can be produced by Excard, you only need to add the box size, paper, processing options, and quantity. The price will be automatically displayed. No more wondering how much your order might cost.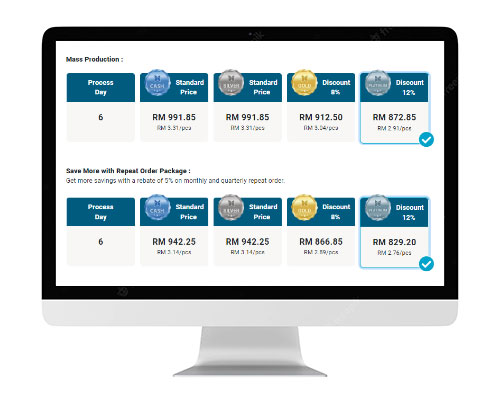 Excard provides an instant price system where the price will be automatically displayed.
Entity Sample
You can also choose to make a purchase for the box samples you want (minimum 3pcs) so your own customers have something physical to hold in their hand to serve as a reference. You can choose unprinted and printed box samples, or you can skip the sample process and move on right to mass production.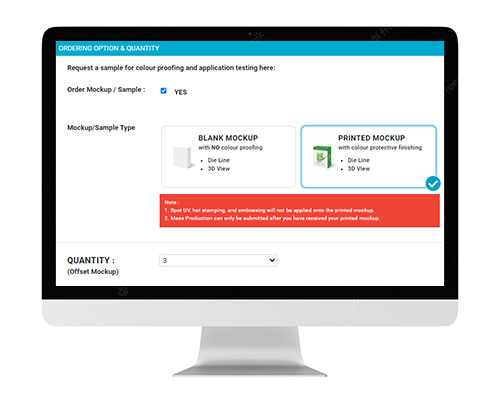 You can choose unprinted and printed box samples before proceeding to mass production.
3D Diagram
Once you've completed your box design, just upload your artwork into our system. You'll get to see a 3D model featuring your final print artwork, so you know what you can expect. You can also download this 3D model and send it over to your customers for confirmation. With this better visual experience, you don't have to rely on graphic design visuals alone to figure out what the final product will end up looking like.
Confirm Order & Await Delivery
Once your customer confirms their box design, you'll be able to confirm and send the final print request directly within the system itself. With a single computer, you'll be able to manage your business from anywhere in the world. Once the order is made, it'll be sent directly to your customers worry-free and hassle-free. We also make sure your order is packaged securely in sturdy carton boxes to make sure everything gets the best protection possible. And with no Excard branding, everything's kept discrete so no one will know you're ordering from us!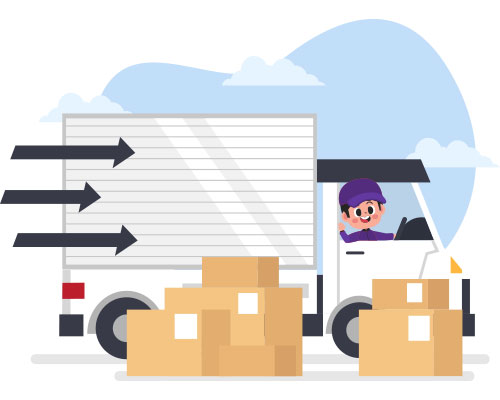 Excard provides door-to-door delivery where your orders are sent directly to your customers worry-free and hassle-free.
And better yet, working with us means you also skip the hassle with couriers. We provide free shipping throughout West Malaysia, giving you the added advantage of lower costs on your business!
With everyone at Excard here to help you along your journey as a business, 40+ ready dieline templates to choose from, and a hyper-convenient ordering system to get you on your way, there's no better partner in printing.