Windows are everywhere, and boy are they important. But we're not here to talk about architecture today. We're actually going to talk about what windows (and the stickers you can put in them) can do for you.
Picture your business.
A storefront of huge glass panes that let in that beautiful natural light. But wait! Are you using these windows to their fullest potential? These blank glass windows are an opportunity.
The answer?
Window stickers.
Our window stickers adhere themselves to smooth surfaces using static cling (science!) and don't have any pesky adhesive that may leave annoying residue. But most importantly, they can help your business. All it takes is a little artistic talent and innovation to make them work for you.
Static cling window stickers (or as some people call them, car stickers) are amazing for marketing and brand promotion. Just about everybody would have encountered one at some point in their lives, with the most common one right above your head every time you pop into a car. See that sticker letting you know when to go in for an oil change?
Congrats, that's a window sticker. Their semi-permanent nature means that they can easily be removed, repositioned, and reused. However, because they don't have any adhesive, they're not the most weather-resistant, and may not stand up to the elements all that well in the long run.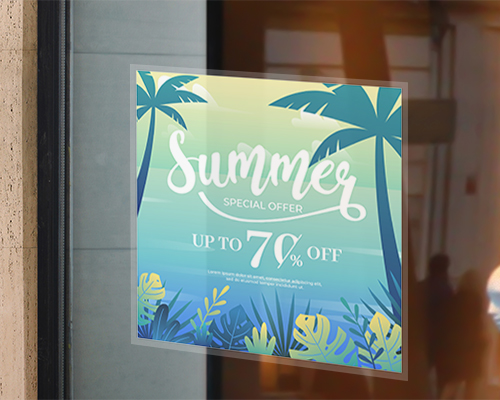 Use static cling window stickers to attract anyone walking or driving past your window.
For Boosting Brand Presence
Potato crisps? Pringles.
Soda? Coca-Cola.
Fast Food? McDonald's.
But how does a static cling window sticker help with creating this word association brand awareness?
You start by making sure you have their attention. Eyes can easily glide past plain glass windows. But incorporate your brand into the window itself? Be it by logo, colours, or other elements of your brand identity, you put your brand out there. Anyone walking or driving past your window gets treated to a visual buffet of what your brand is, and what it stands for.
And because these stickers work with static cling, they're easily-removable and these displays can be replaced on a seasonal basis! This helps keep things fresh for your audience, allowing them to look forward to what you have in store next.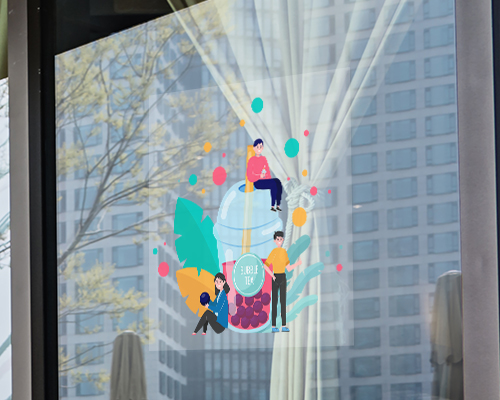 Customise your static cling window sticker in fun, creative ways to show off your products to customers!
Generate Curiosity
If you successfully create a design that's eye-catching, visually stimulating, and attracts passersby, that is incentive for them to learn more. This makes for a quick, easy way for potential customers to see what you're offering. Now that you have their attention, you need to make sure your next step is tailored to successfully reel them in. Whether it's to get a table, buy an outfit, or shop for a brand new kitchen, they've taken the bait and now you have to make sure you have a successful catch.
Create designs that fascinate with how absurd and wild they are, or maybe something minimal and quiet. Whatever it is, make sure it resonates with your brand, so that anyone on the street might be struck with curiosity. Maybe even include a call to action, explicitly stating what you want them to do and they might just listen. "Step inside and find out what we can do for you." Compelling, no? And once they're in, your savvy business skills will help close that sale. Success!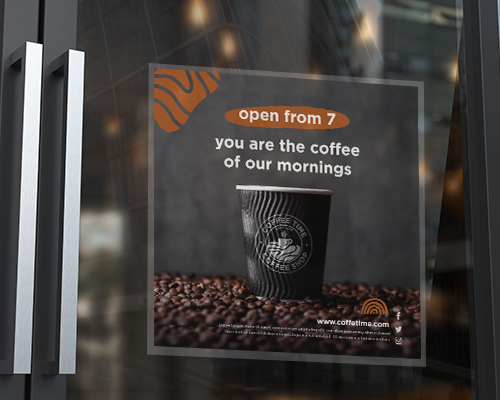 Window stickers can create excitement and inspiration before customers stepped through the door!
Direct customers to the right entrance
On a more practical level, window stickers can also serve as a directional tool, in the very literal sense of the word. Maybe you have a business that has more than one door but you only have one entrance meant for the general public. There's a good chance customers might walk up to the wrong door at first. Rather than allow their experience at your business to start with aggravation or embarrassment when they try to open this door, some handy window signage can let them know where to go. Imagine if they'd just thought you were closed and then left? Never to know what they're missing out on.
This locked door can feature a window sticker design that directs customers with an arrow and a line of text along the lines of "Entrance this way" or "Please use another entrance." Depending on the style of your branding, you can even have some fun with this directional signage. For example, you could amuse customers with a line like, "You found our secret entrance! Sorry, this one stays locked." That way they're amused rather than annoyed.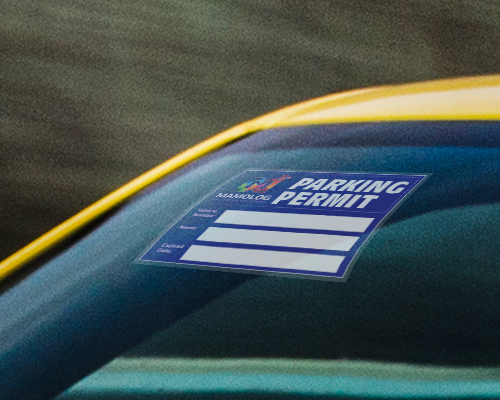 Our car window sticker lets you deliver your message (and contact info) to others when you're on the go.
Double the Exposure
Double-sided static clings are made to be viewed from both the outside and inside of your building. That means with a single window-cling, you can get double the exposure. Or at least double the value. This is a unique advantage window displays offer that most other types of signage can't replicate, meaning you get double the mileage from a single display.
You can even be creative! Maybe it's an alternative version of the first design they saw. Subvert expectations and come up with something interesting or provocative to get the conversation going. That's how you generate interest in a brand!
And now that you have ideas on how static cling window stickers can help with your business, explore the products we have to offer to start with your own design.